Product News in November 2021 Issue
PRODUCT NEWS is presented as a service to the reader and in no way implies endorsement by JCO.
Software Update
The 2021 release of Edge Cloud focuses on better performance in addition to new features, according to Ortho2; in addition, the company now publishes release notes on a dedicated web page at edgereleasenotes.ortho2.com. Update features include the ability to display patient date of birth on images, office alias names for practices with multiple office locations, a new insurance company widget, several additional reports, and, for inVisit users, the ability to see virtual visit summaries in the Treatment Hub.
For more information, contact Ortho2, 1107 Buckeye Ave., Ames, IA 50010. (800) 678-4644; www.ortho2.com.
Disposable Burs
Komet's single-patient-use burs offer greater initial sharpness and stronger carbide breakage resistance than the leading competitor, according to the company. These diamond and carbide burs, packaged in a class 7 cleanroom using a gamma irradiation sterilization procedure, come in a variety of shapes and sizes, in rolls of 25 with a remaining inventory count on each bur pouch.
For more information, contact Komet USA, 3042 Southcross Blvd., Suite 101, Rock Hill, SC 29730. (888) 566-3887; www.kometusa.com.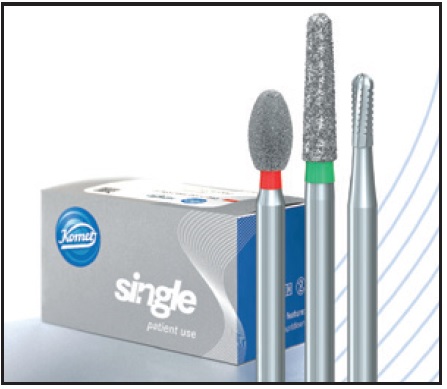 Clear Aligners
The Spark Clear Aligner System release 11 features anatomical beveled attachments that conform to the surface of each tooth for a more uniform active attachment surface, as well as redesigned bite ramps that improve engagement with the teeth, according to the manufacturer. The approver software now offers mixed-
dentition support and downloadable STL files of the first three and last stages of treatment. Other changes include user interface improvements to the software and reduced packaging waste.
For more information, contact Ormco, 1717 W. Collins Ave., Orange, CA 92867. (800) 854-1741; www.sparkaligners.com.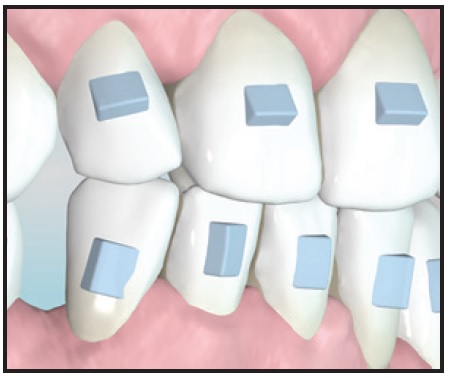 Toothbrushes
Brush Buddies' toothbrushes for kids are designed to make brushing fun. These electronic Soniclean brushes are made with soft bristles to protect enamel but with enough power to remove plaque, according to the company. A variety of licensed and private-
label themes are available, including Kung Fu Panda and Thomas and Friends editions.
For more information, contact Brush Buddies, 1610 E. Philadelphia St., Ontario, CA 91761. (909) 434-0911; www.brushbuddies.com.