THIS ARTICLE WILL BE MOVED TO THE ARCHIVE IN OUR REGULAR FORMAT WHEN THE JUNE ISSUE IS PUT ONLINE
The material contained in this communication is subject to change based upon federal, state, and local regulations; guidance
from agencies; and additional knowledge that will come to light throughout the COVID-19 crisis. This information was organized
to provide assistance and not specific direction; further due diligence is still required. Decisions for any specific
orthodontic practice should be based on your own considerations and requirements, after consulting with professional
advisers who are involved in all aspects of your practice.
Orthodontics in the COVID-19 Era: The Way Forward Part 2 Orthodontic Treatment Considerations
---
SRIRENGALAKSHMI M., BDS, MDS, MOrth
ADITH VENUGOPAL, BDS, MS, PhD
PAOLO JESUS P. PANGILINAN, DMD
PAOLO MANZANO, DMD, MScD
JASSIN ARNOLD, MSc
BJÖRN LUDWIG, DMD, MSD
JASON B. COPE, DDS, PhD
S. JAY BOWMAN, DMD, MSD
"We learn more in crisis than in comfort."
—Abhijit Naskar, neuroscientist
Part 1 in this pair of articles provided background on the current coronavirus pandemic and suggestions for implementing new office environmental and infection controls. (Part 1 has been published only at www.jco-online.com.) This second part will discuss orthodontic treatment considerations in the COVID-19 era.
We must anticipate and be prepared for the effects of unsupervised orthodontic treatment in case a future lockdown is imposed in the wake of a COVID-19 resurgence. Therefore, we should reconsider the use of any orthodontic mechanism that, if left unattended, could create unintended detrimental effects—especially devices that are not self-limiting, such as Pendulum* springs, canine traction or eruption springs (Kilroy,** ballista), reverse-curve wires, torquing auxiliaries, and fixed functional appliances (Forsus,*** Herbst†). The following are some specific orthodontic procedures and appliances that may have to be modified, at least in the short term.
Bonding
The need to polish the enamel surface with pumice and the constant use of a three-way syringe for rinsing make conventional bonding an aerosol-generating procedure (AGP). Many non-AGP options for bonding are available (although it must be emphasized that these can compromise bond strengths58,59):
• Light-cured resin-modified glass ionomer cement can be used without any prior enamel preparation such as polishing, etching, or drying. This option reduces the need for an absolutely dry field, in turn reducing the need for any AGP.60
• Self-etch primers can also be used without prior enamel preparation and etching, but they require the smear layer to be removed prior to use, usually by pumicing or polishing teeth, which would be unnecessary with an AGP.
• The need for a three-way syringe before or after polishing and etching can be avoided by using a dry cotton roll to clean the enamel surface. Suction can still be used because it is non-AGP. Paul Gange Jr. of Reliance Orthodontic Products has shared similar interim recommendations for non-aerosol bonding.61
Indirect bonding may be another alternative to conventional direct-bonding techniques because it reduces patient exposure. It should be kept in mind that flash removal for indirect bonding is an AGP and must be performed with utmost caution.62
Leveling and Alignment
Leveling and alignment are complex processes during which all teeth move in different directions at the same time. As the teeth level and align, reciprocal forces develop between them and help guide the teeth to the correct positions. Practitioners usually start with light forces and round, light-gauge nickel titanium wires, which have a considerable amount of play that can cause slippage of the wire from brackets, especially on the terminal molars. Square or rectangular nickel titanium wires are preferable to avoid emergencies caused by slippage. Additionally, the archwires can be cinched back to prevent the sharp ends from impinging on the gums. The use of flowable composite is also recommended. To avoid slippage, it is wise not to include the second molars during the first few visits; they can be incorporated during the stages employing flexible rectangular wires.
Deep Bites
It is a common practice to use a reverse-curve nickel titanium wire to correct a deep bite caused by a deep curve of Spee in the lower arch. It usually takes about three months to flatten the curve with a constant force of approximately 300g generated by the wire itself. Note that such high forces from non-self-limiting mechanisms, if left unmitigated or not regularly attended, may yield untoward iatrogenic effects such as excessive bite opening or proclination of the lower incisors (Fig. 16).63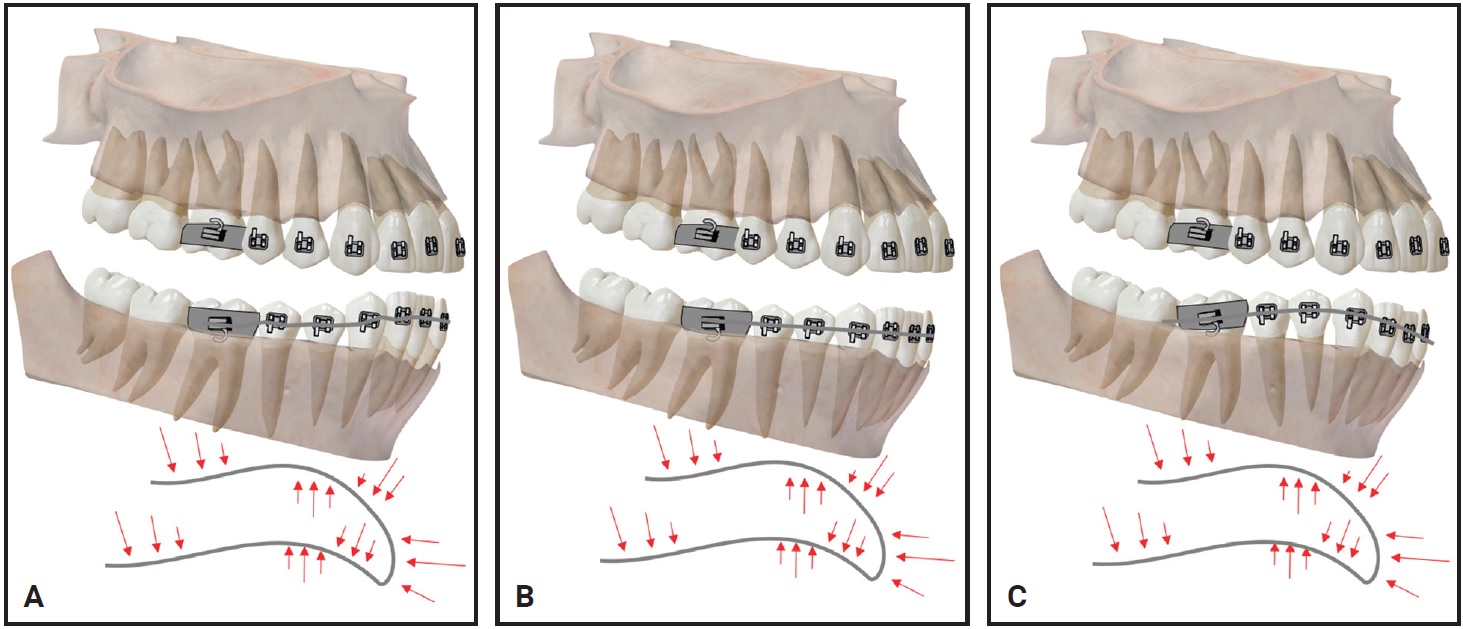 Fig. 16 A. Intended effect of reverse curve of Spee archwire. B. Reverse-curve archwire after reaching its objective. C. Inadvertent tooth movement produced by unmonitored reverse curve archwire.