Product News in September 2023 Issue
PRODUCT NEWS is presented as a service to the reader and in no way implies endorsement by JCO.
Toothbrush
In partnership with the Susan G. Komen Foundation, Cura­prox has created a limited edition of its CS 5460 toothbrush, packaged in kits of six brushes in various shades of pink, for breast-­cancer awareness. Through Oct. 31, 25% of the retail price will be donated to the foundation. According to the manufacturer, the toothbrush's gentle Curen filaments are densely packed to create an efficient cleaning surface, and the compact head reaches every corner of the mouth.
For more information, contact Curaden USA Inc., 4255 E. McDowell Road, Suite 109, Mesa, AZ 85215. (800) 919-0120; www.curaprox.us.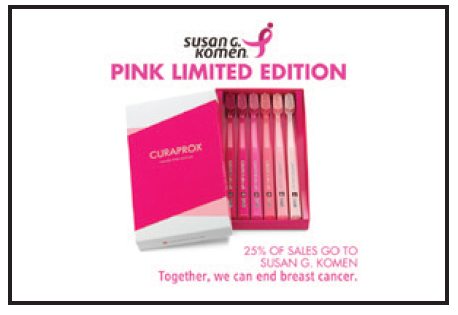 Software Integration
In Dolphin Management's latest integration, Zeeno enables patients to check in for their appointments using a robotic office assistant. Zeeno can handle multiple tasks and appointments simultaneously, according to the company, while keeping patients engaged and informed with educational videos and practice introductions. The robot also assists staff with such tasks as instrument handling and escorting patients.
For more information, contact Dolphin Imaging & Management Solutions, 9200 Oakdale Ave., Suite 500, Chatsworth, CA 91311. (818) 435-1368; www.dolphinimaging.com.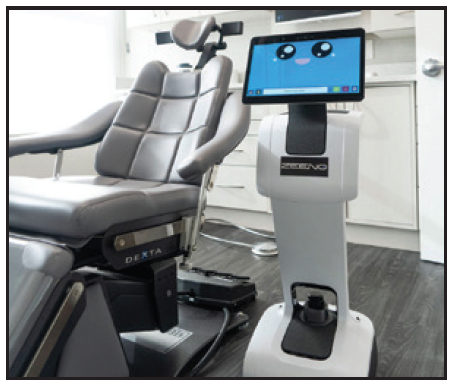 Archwires
The Infinity archwire was designed to address the challenges associated with standard coating processes and to maintain its esthetic appearance throughout treatment. According to the manufacturer, an innovative etching process avoids such problems as chipping after a few weeks of use, compromised wire size from an additional coating layer, and increased friction during treatment. The archwire, which comes in a natural color to blend with enamel shades, is also available in an extra-broad archform.
For more information, contact DynaFlex, 10403 International Plaza Drive, St. Ann, MO 63074. (866) 346-5665; www.dynaflex.com.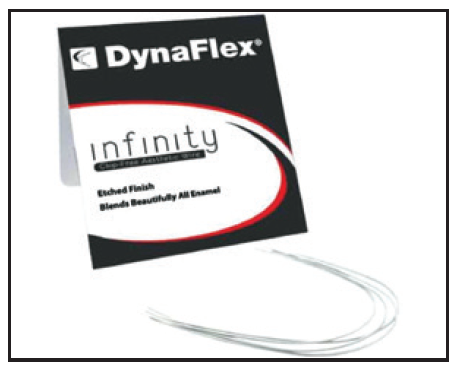 Intraoral Scanner
The NeoScan 2000's wireless technology offers unrestricted mobility during scanning, allowing even the most challenging proximal areas to be captured. Its long-range connectivity ensures uninterrupted data transfer, eliminating the need for repositioning to avoid a dropped signal, according to the company. Included with each scanner are free upgrades to NeoPro software and NeoConnect cloud service to help clinicians experience seamless integration without additional costs; 1TB of free cloud storage is also available to all users.
For more information, contact Neoss Inc., 890 Winter St., Suite 120, Waltham, MA 02451. (866) 626-3677; www.neoss.com/en-us/neoscan.