2013 AAO CONVENTION
Rediscovering Philly
The AAO meets again in Philadelphia for its 113th annual session, to be held May 3-7 in the recently renovated Pennsylvania Convention Center. As a major hub of travel, culture, history, and commerce, the City of Brotherly Love has tons of attractions and opportunities for sightseeing, education, shopping, and dining. Many websites have recently added free apps to help you find your way smoothly around town using your mobile device.
Weather and Transportation
Spring is generally mild in Philadelphia, with May daytime temperatures in the mid-60s. Rain is always a possibility, and evenings will be chilly.
Philadelphia International Airport is about seven miles from downtown. SEPTA rail service, accessible from most of the baggage-claim areas, makes four stops in Center City, two within a few blocks of the convention center (Suburban Station and Market East); one-way fare for the 30-minute ride is $7 (cash only). Taxis, departing from Zone 5 of the airport's Commercial Transportation Roadway, charge a flat rate of about $30 to Center City locations. Sedan and limousine services are found in Zone 6, shared-van services in Zone 7. Amtrak's 30th Street Station is about two miles from the convention center, across the Schuylkill River in the University City neighborhood.
Similar articles from the archive:
Tickets for tours and many attractions can be purchased at Philadelphia Visitor Centers in the convention center, at Sixth and Market (Independence Visitor Center), in Philadelphia City Hall, and in LOVE Park's Fairmount Park Welcome Center (www.phlvisitorcenter.com). Philadelphia Pass (www.philadelphiapass.com) and Philadelphia City Pass (www.citypass.com) offer discounted entry to top venues.
Tours
If the weather is pleasant, try a walking tour or simply stroll around the pedestrian-friendly Center City, bordered on the west by the Schuylkill River and on the east by the Delaware River. Walk! Philadelphia! directional signs are color-coded by district. For quick and easy transportation around Center City on Friday, Saturday, or Sunday, take the bright-purple Philly Phlash trolley, which stops at 19 of the city's most popular sites; an all-day pass allows hop-on/hop-off access for $10.
Known as the Mural Capital of the World (3,000 and counting), Philadelphia boasts one of the nation's largest collections of public art. Guided and self-guided art tours by foot or public transportation are offered by the Mural Arts Program, Context Tours, and Museum Without Walls (walking-tour map at www.museumwithoutwallsaudio.org).
Guided city and historic tours by foot, bike, Segway, bus, and horse-drawn carriage are widely available. Options include Urban Adventures Presents "History in HD", "Soul of Center City", and "Philly on Tap"; Historic Philadelphia's "Independence After Hours" (dinner and debates by actors portraying the Founding Fathers) and "Tippler's Tour" (a "colonial pub crawl"); and the top-rated Awfully Nice Tours (with guides specializing in architecture, history, and the arts).
Architecture buffs may note the addition of the super-"green" Comcast Center to the skyline since the 2002 AAO meeting. The "Emergence of a Modern Metropolis" guided tour, led by the Center for Architecture, highlights local architecture from the 1870s to the present; purchase tickets at the Art Institutes of America (AIA) Bookstore and Design Center in the Comcast lobby. Guided and self-guided walking tours of the oldest and most notable buildings and neighborhoods are offered by the Preservation Alliance for Greater Philadelphia.
Bike rentals and tours are available from Wheel Fun Rentals (rental kiosk on Boathouse Row) and Philadelphia Bike Tours (who will deliver and pick up bicycles at your hotel). For a scenic view of the city and neighboring New Jersey, take the RiverLink Ferry between Penn's Landing and the Camden Waterfront (12 minutes each way).
Food tours range from the trademark local cheesesteaks, scrapple, and big pretzels to ethnic delicacies. Taste of Philly Food Tours focus on the Reading Terminal Market; reserve a spot early, then check out their blog to learn the important nuances of "How to Order a Philly Cheesesteak". City Food Tours feature Philly-centric as well as gourmet tasting tours; the new, 21-and-over "Prohibition Cocktail Tour" is usually sold out several weeks in advance. Chew Philly Tours add cultural and historical context to family-owned restaurants on strolls through the 300-year-old Manayunk neighborhood. Chocolate lovers won't want to miss the Philadelphia Chocolate Tours of sweets shops and cafes.
Attractions
To the east of the convention center lies the Old City/Historic District, full of historic sites as well as modern boutiques, galleries, and restaurants. Independence National Historical Park, run by the National Park Service, is known as "America's Most Historical Square Mile". Free timed tickets can be reserved for Independence Hall tours online (www.recreation.gov) or by phone. In the west wing of Independence Hall, the "Great Essentials Exhibit" displays surviving copies of the Declaration of Independence, the Articles of Confederation, and the Constitution of the United States. Nearby are the Liberty Bell Center, Graff House (where Thomas Jefferson lived while drafting the Declaration of Independence), Carpenters' Hall, and City Tavern. National Park Service sites are free except for the National Constitution Center (interactive exhibits, live performances, and daily presidential trivia contests). A cellphone audio tour for more than 20 locations is accessible through a local number, (267) 519-4295. Note that many attractions, including those on Independence Mall, close by 5 or 6 p.m., and others around town are closed on Sunday.
Also in the Old City are Franklin Court (park, fountain, and carousel); Elfreth's Alley (the nation's oldest residential street); the iconic City Hall, with its spectacular view from the public observation deck (reservations required); Fireman's Hall Museum (a restored 1902 firehouse); and the Betsy Ross House. The American Philosophical Society Museum (open to 8 p.m. on May 3) showcases rare and intriguing examples of art, science, and history. The Chemical Heritage Foundation Museum is showing the surprisingly beautiful "X-Ray Vision: Fish Inside Out". A bit farther from the convention center are Rodeph Shalom Synagogue, the 1920s-era Byzantine-style home of the Philadelphia Museum of Jewish Art, and the Mütter Museum, celebrating its 150th anniversary as a storehouse for the "anatomically strange".
Just a few blocks east of the Historic District, on the Delaware River waterfront, the World War II submarine Becuna and 1892 Cruiser Olympia are on display at the Independence Seaport Museum. Inside the museum, the exhibit is called "Disasters on the Delaware: Rescues on the River". Across the river, the Battleship New Jersey is docked on the Camden Waterfront.
In the museum district along Benjamin Franklin Parkway, the Barnes Foundation has opened its striking new building with a world-renowned collection of French Impressionist and post-Impressionist paintings (evening hours on May 3). May exhibitions at the Philadelphia Museum of Art will include "Journeys to New Worlds: Spanish and Portuguese Colonial Art" and "The Art of Golf". At the Franklin Institute, "Spy: Secret World of Espionage" opens May 4, and the Fels Planetarium is showing "Space Junk" in the Tuttleman IMAX Theater.
The Philadelphia Zoo unveils its new KidZooU, a combined education center and children's zoo, in May. Another kid-friendly venue is the Please Touch Museum in Fairmount Park, also the site of a restored 1908 carousel. In the University City neighborhood, the University of Pennsylvania Museum of Archaeology and Anthropology is hosting the final stop of the world's largest and best-preserved ancient floor mosaic, excavated from Lod, Israel.
A visit to Cliveden, north of downtown, is recommended for Revolutionary War buffs. The grounds are the site of the Battle of Germantown, and rare colonial furnishings and decorative arts are on display in the mansion. The nearby Ebenezer Maxwell Mansion, Philadelphia's only Victorian house museum, offers a May 3 tour on women in Victorian America, called "Upstairs Downstairs".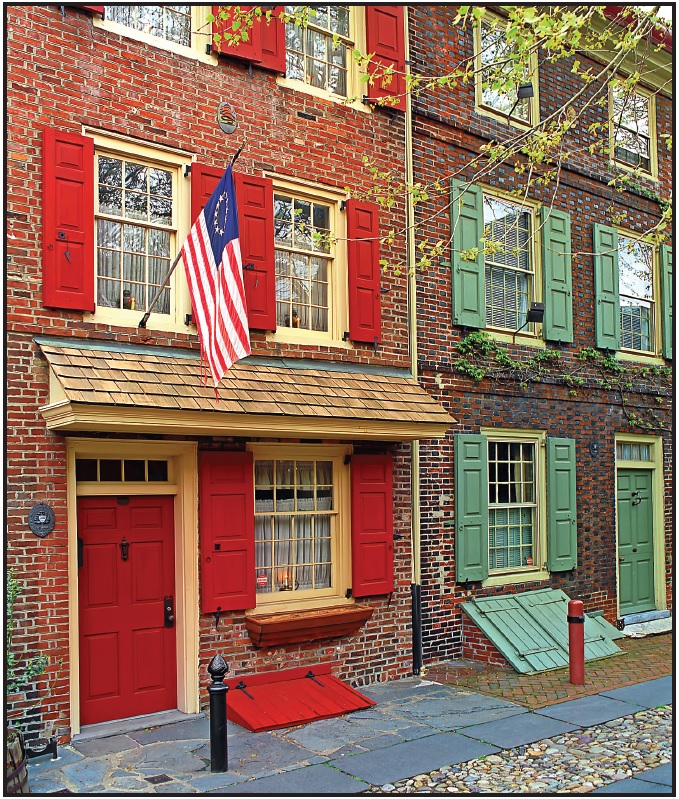 Elfreth's Alley in historic Old City Philadelphia. Photo © Hblamb, <a href="http://www.dreamstime.com" target="_blank">www.dreamstime.com</a>.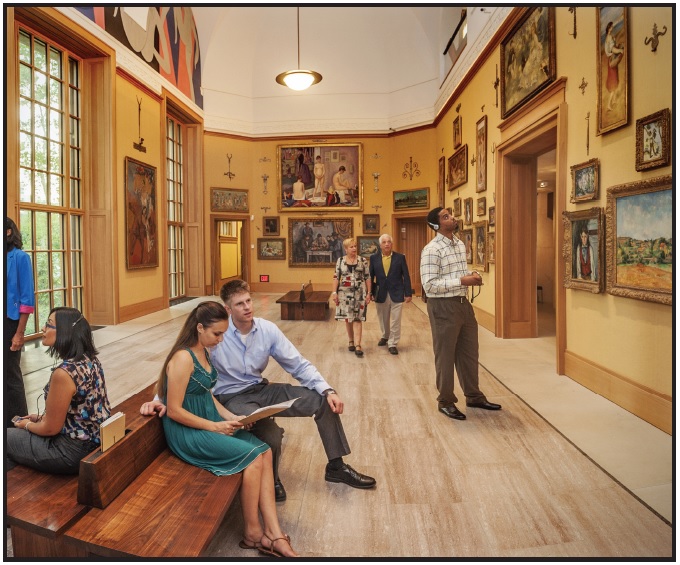 A gallery in the Barnes Foundation. Photo by R. Kennedy for GPTMC.
The countryside around Philadelphia should be green and blooming in May. Amish country is within a few hours' drive, and Revolutionary and Civil War sites abound. In Bucks County, each of the 44 differently shaped rooms in archeologist Henry Mercer's 1916 concrete castle, now the Fonthill Museum, is thickly decorated with handcrafted tiles from the adjacent Moravian Pottery and Tile Works, a working history museum. Parts of Mercer's extensive collection are also housed in the nearby Mercer Museum, which will be exhibiting "Turning Points: Civil War, 1863-1864" during the convention. Longwood Gardens in Kennett Square and Winterthur Museum and Gardens in Wilmington, Delaware, both within an hour's drive of Philadelphia, will be in all their spring glory; the 175-room Winterthur mansion showcases decorative and fine-arts collections of the DuPont family.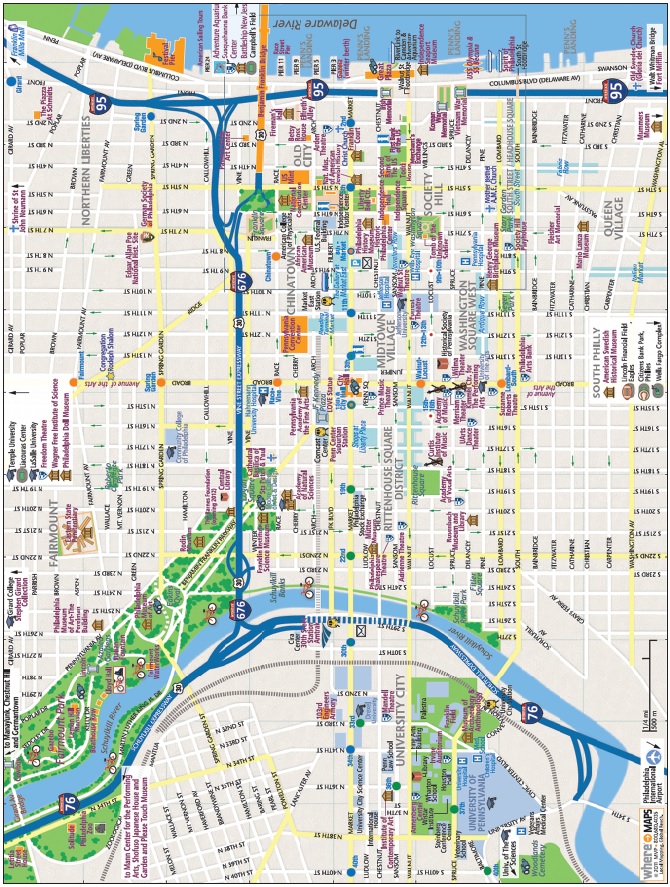 Performances
The Kimmel Center for the Performing Arts will host the Philadelphia Orchestra, featuring violinist Hilary Hahn and music director Yannick Nézet-Séguin, in Verizon Hall May 3, 4, and 5. In Merriam Theater, the spectacular Shen Yun Classical Chinese Dance Company will present several performances May 3-5. Center City Opera Theater offers Verdi's La Traviata at Prince Music Theater May 2-5. The Pennsylvania Ballet will dance to Saint-Saëns' Carnival of the Animals May 9-12 at the gorgeous Academy of Music, modeled after Milan's La Scala.
Chamber-music performances hosted by the Philadelphia Chamber Music Society are on schedule in Franklin Hall at the American Philosophical Society on May 2 (cellist Efe Baltacigil and pianist Benjamin Hochman with Beethoven cello sonatas) and May 3 (baritone Jonathan Beyer and pianist Spencer Meyer performing pieces by Tchaikovsky and Zemlinsky). The Tokyo Quartet II presents its final Philadelphia performance (Beethoven, Mendelssohn, and Bartok) at the Independence Seaport Museum on May 5.
Theatrical performances include Shaw's Arms and the Man, in repertory with Martin Crimp's production of Molière's Misanthrope, presented by the Quintessence Theatre Group at Sedgwick Theatre through May 25. The 29th annual Philadelphia International Children's Festival will be hosted by the Annenberg Center for the Performing Arts in University City May 2-4; family-friendly performances and activities include 46 Circus Acts in 45 Minutes (all ages) and The Adventures of Alvin Sputnik, Deep Sea Explorer (ages 10 and up).
Indie and world-music fans may want to visit the Friday "Free at Noon" live broadcast hosted by local radio station WXPN and World Cafe Live on the University of Pennsylvania campus (sign up one week in advance at www.xpn.org). On May 5, singer-songwriter Paula Cole will be in concert at the World Cafe performance venue; Lunch Money, a family-friendly indie rock band, plays a morning show May 4.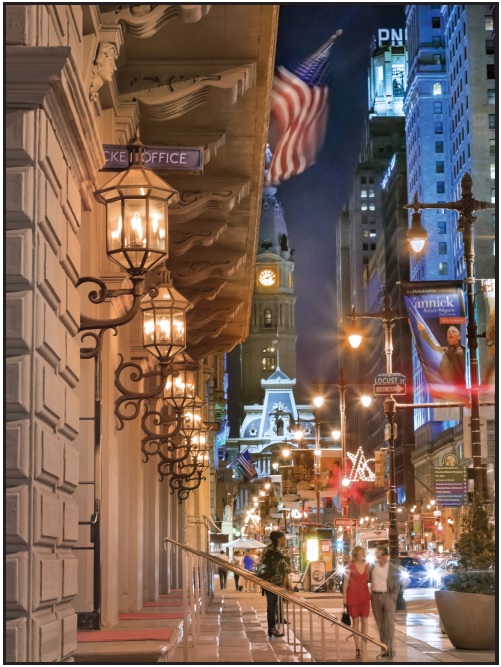 Looking up Broad Street ("The Avenue of the Arts") toward City Hall from the Academy of Music. Photo by G. Widman for GPTMC.
Dining
Restaurant recommendations are provided by our sister publication, Sommelier Journal. Philadelphia continues to be a hub of celebrity chefs, including the original Iron Chef, Masaharu Morimoto. Besides the flagship Morimoto in Center City, partner Stephen Starr also operates Alma de Cuba (Nuevo Latino, Center City), Buddakan (Asian Fusion, Old City), Butcher and Singer (steakhouse, Center City), The Continental (eclectic, Historic District), The Dandelion (gastropub, Center City), El Vez (Mexican-American, Center City), Pod (Japanese, West Philly), and Talula's Garden (farm to table, Washington Square), among others.
Marc Vetri, one of Philadelphia's most decorated chefs, opened the fabulous Vetri in the Washington Square District in 1998; since then, he's added the casual Amis Trattoria in the same neighborhood, followed by the acclaimed, Tuscan-inspired Osteria and a next-door Italian gastropub, Alla Spina, in Spring Garden.
A Center City haute-cuisine institution, Le Bec Fin, has reopened under new ownership. Michael Solomonov's Zahav in the Waterfront District has been lauded for its Israeli-inspired menu. Nearby is celebrity chef Jose Garces's Amada, serving elegant Spanish tapas. Another outstanding tapas restaurant is chef David Ansill's Bar Ferdinand in the Northern Liberties neighborhood. Barbuzzo (Mediterranean) and Jamonera (Spanish) are excellent wine bars under the same ownership in the trendy 13th Street Corridor.
Also recommended: Bibou (casual French, South Philly), Brauhaus Schmitz (South Philly), Fond (contemporary American, South Philly), Han Dynasty (Sichuan, various locations), Kanella (Greek Cypriot, Washington Square), Sansom Street Oyster House (Center City), and Vernick Food & Drink (American, Rittenhouse Square).
Shopping and Galleries
Art lovers will have a First Friday opportunity, with many galleries open into the evening on May 3. Old City houses more than 40 galleries in the quadrangle between Front and Third and Market and Vine streets; download a map of galleries, museums, and restaurants at www.oldcityarts.org.
For women's clothing and accessories, try Vagabond (handmade and vintage designs), Tselaine (unique jewelry and gifts), or Adresse (designer clothing and accessories) in Rittenhouse Square. Nearby is Lisa M. Reisman et Cie (Art Nouveau posters, French crystal jewelry). Rittenhouse Row, stretching from Broad Street to 21st Street between Spruce and Market streets, features a mix of national and local retailers alongside trendy boutiques, salons, and upscale dining.
Buy your own miniature LOVE statue or Frank Lloyd Wright Fallingwater Lego set at the AIA Bookstore in the Comcast Center. Other design stores worth a visit include Bahdeebahdu (interior design by R.J. Thornburg and sculptural lighting by Warren Muller) and OLC (contemporary European lighting and furniture).
A charming collection of independently owned retailers lines the historic Main Street Manayunk in northwest Philadelphia. RevivalSmith (vintage and antique furniture), Martin Pulli Fine Jewelry and Watches (open Saturdays and by appointment), and The Spiral Bookcase are housed in renovated Victorian storefronts and mill buildings.
Other notable shopping venues include the historic-landmark Macy's store (housing the celebrated Wanamaker pipe organ); The Shops at The Bellevue (selected high-end stores), The Shops at Liberty Place, and The Gallery at Market East (connected to the convention center). The biggest suburban centers are Franklin Mills (200 outlets and specialty stores) and the King of Prussia Mall (400 stores, boutiques, and restaurants).
Sports and Recreation
The Philadelphia Phillies host the Miami Marlins in a four-game series May 2-5 at Citizens Bank Park. The Philadelphia Flyers may be involved in first-round National Hockey League playoff action at the Wells Fargo Center.
The annual 10-mile Broad Street Run takes place the morning of May 5. Registration is already closed, but spectators can cheer on the 30,000-plus runners along Broad Street, which runs north-south through Center City on the west side of the convention center. (Transportation may be problematic in this part of town until later in the day. See a course map at www.broadstreetrun.com.)
For fans of steeplechase and "ambitious tailgating", the 35th Annual Winterthur Point-to-Point will be held on the Winterthur grounds on May 5.
With some cooperation from the weather, golfers can enjoy a local course just a short drive from the city. Highly rated courses include The Golf Course at Glen Mills, Scotland Run Golf Club (Williamstown, New Jersey), and Wyncote Golf Club (Oxford).