Product News in January 2021 Issue
PRODUCT NEWS is presented as a service to the reader and in no way implies endorsement by JCO.
Aligner Pontics
OrVance Aligner Pontics are a simple, inexpensive way to fill in for missing teeth without fabricating custom pontics, according to the company. Made from pliable, medical-grade silicone and food-safe colorants, the OrVance pontic can easily be molded and inserted into a new aligner tray by the patient in less than 10 seconds. Available shades approximate the Vita range A2-D2. The individual, hygienic packages are safe to use at home or in the office.
For more information, contact OrVance, 6477 Cherry Meadow Drive S.E., Suite 5, Caledonia, MI 49316. (888) 508-1290; www.orvance.com.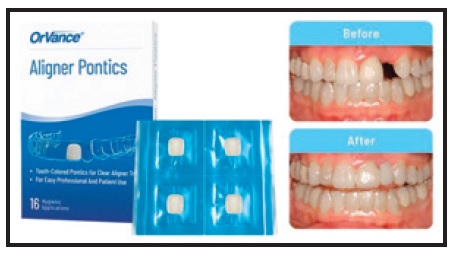 Tooth Whitener
Aligner patients can conveniently whiten their teeth with Opalescence PF whitening solution placed directly in their aligner trays during treatment, according to the manufacturer. The mild 10% concentration of carbamide peroxide avoids tooth sensitivity, allowing aligners with whitener to be worn comfortably for as long as 10 hours per day. No special cleaning is needed after use. Sweetened with xylitol, Opalescence PF comes in a portable kit with four syringes for easy dispensing.
For more information, contact Ultradent Products, 505 West 10200 South, South Jordan, UT 84095. (800) 552-5512; www.ultradent.com.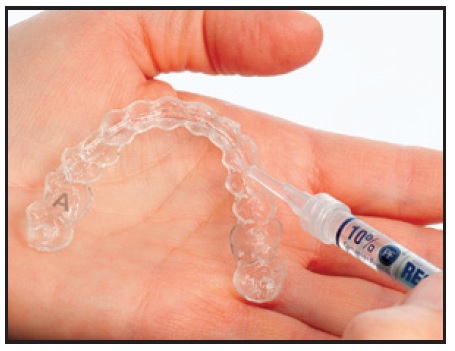 Aligner Material
Opti-Klear Aligner and Retainer material combines outstanding clarity with excellent strength, according to Ortho­Essentials. The product is easy to form, bonds with acrylics, and will not bubble. Final aligners and retainers made from the material are durable and wear-resistant. Opti-Klear is available in .030" and .040" sizes in packages of 100 sheets.
For more information, contact OrthoEssentials, 10 Lippincott Lane, Suites 6-7, Mount Holly, NJ 08060. (866) 517-3257; www.orthoessentials.net.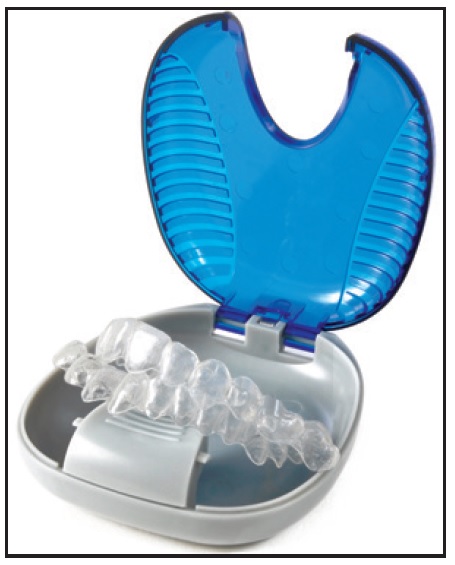 Precision Aligner Buttons
Designed to universally fit canines and premolars within aligner cutout windows, Clear Precision Buttons are composed of a translucent composite-ceramic hybrid. The unique base pad is contoured to fit comfortably at the gum line while offering a maximized surface area for retention. According to the manufacturer, these innovative features reduce unnecessary emergency visits for patients while saving valuable chairtime. A variety of elastic sizes and patterns can be used with the buttons.
For more information, contact DynaFlex, 10403 International Plaza Drive, St. Ann, MO 63074. (866) 346-5665; www.precisionbuttons.com.