PEARLS
Two Pearls: A Removable Suction-Tip Clip; and Composite Beads for Reactivation of Functional Appliances
A Removable Suction-Tip Clip
Any moisture-sensitive procedure involving high-volume evacuation generally requires a chairside assistant to hold the suction tip. In a previous article, Naik and colleagues described a cheek retractor with a permanently attached suction- tip holder.1
We have designed a removable suction-tip clip that is bent from 1mm stainless steel wire. It can be detached from the cheek retractors when not required, so that the same retractor can be used for intraoral photography. In addition, the components can more easily be cleaned and sterilized between uses.
Similar articles from the archive:

Composite Beads for Reactivation of Functional Appliances
Fixed functional appliances using pin-and-tube arrangements require frequent reactivation, usually by adding activation springs or crimpable spacers provided by the manufacturer. An alternative method is to add "beads" of composite around the pin, as shown here with a Forsus* appliance. This procedure can be done intraorally without removing the pin and tube.
Since composite resists compressive stress, the risk of fracture is low; if fracture does occur, however, it is a simple task to add more composite at the patient's next appointment.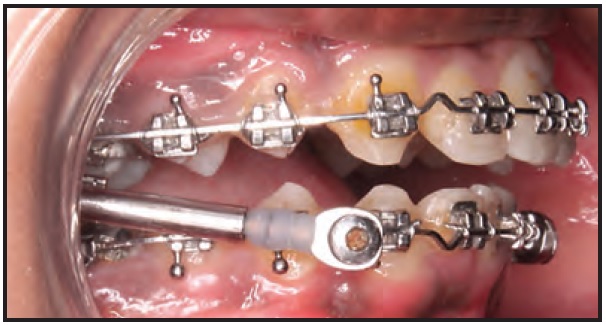 REFERENCES
1. Naik, R.D.; Kidiyoor, H.; Revankar, A.V.; and Ganeshkar, S.V.: Modification of a cheek retractor for high-volume evacuation, J. Clin. Orthod. 43:664, 2009.