Product News Published in October 2019 Issue
PRODUCT NEWS is presented as a service to the reader and in no way implies endorsement by JCO.
Glass Ionomer Cement
GC FujiCEM Evolve resin-reinforced glass ionomer cement bonds to a variety of substrates. An ergonomic syringe delivery system eliminates the need for a dispenser, according to the company, and a three-second tack-cure feature allows easy clean-up. The cement is available in packs of one or three units, for either hand or automatic mixing.
For more information, contact GC America, Inc., 3737 W. 127th St., Alsip, IL 60803. (708) 926-3064; www.gcamerica.com.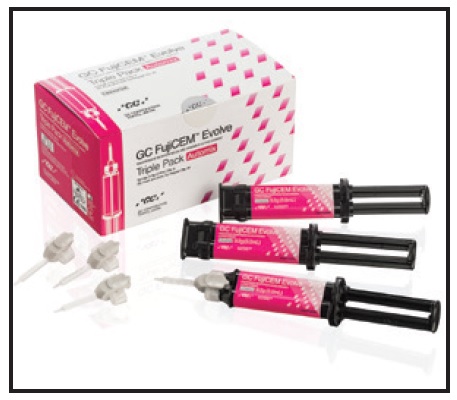 Probe Set
Guray Dental has introduced an orthodontic probe marked in millimeters for easily measuring bracket positions, spaces, overjets, overbites, midlines, irregularities, and Nance dimensions at the chair. According to the company, the probe is angulated 150° at the tip to improve tactile sensitivity and allow easier access to all areas of the mouth; thus, it can be used for removing elastomeric ligatures, even around posterior brackets.
For more information, contact Guray Dental, Cinnah Cad., No. 37/3, 06690 Cankaya/Ankara, Turkey. (90 532) 213-68-09; www.drgurayortho.com.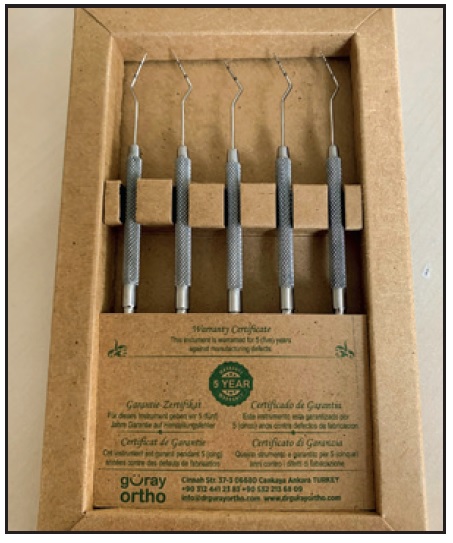 Carbide Burs
Coated with a patented, proprietary zirconium nitride finish to increase hardness, Great White carbide burs are efficient and durable, according to the manufacturer. Cross-cut and spiral-fluted blade configurations and tungsten carbide heads make the burs useful for a variety of applications with all materials, and stainless steel shanks reduce handpiece wear. The abrasion-resistant burs are designed to produce less heat and vibration for more consistent surface finishes.
For more information, contact SS White, 1145 Towbin Ave., Lakewood, NJ 08701. (800) 535-2877; www.sswhitedental.com.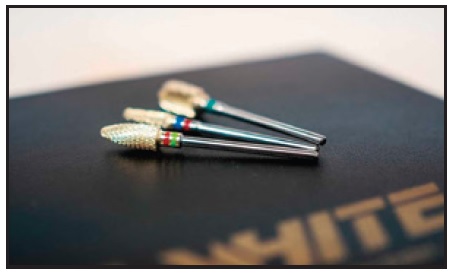 Cephalometric Templates
The digital Bolton Cephalometric Standards Template System, including templates based on age, nationality, and sex, can be used to create tracings quickly and accurately without the need for anatomical or landmark-recognition training, according to the developer. The provided measurements include anteroposterior incisor positions, upper-to-lower facial height proportions, and anteroposterior maxillary and mandibular skeletal positions. A donation will be made to the Bolton-Brush Growth Study Center for every purchase.
For more information, contact Motion View LLC, 2730 Kanasita Drive, Hixson, TN 37343. (423) 475-6914; www.motionview3d.com.