Product News Published in March 2019 Issue
PRODUCT NEWS is presented as a service to the reader and in no way implies endorsement by JCO.
Glass Ionomer Cement
Meron Plus QM is a new resin-modified glass ionomer cement that provides strong adhesion without primer or conditioner, according to the manufacturer. Available in a QuickMix syringe for precise mixing and application, this paste-paste version becomes a gel after light- or self-curing for adhesive control and easy clean-up.
For more information, contact VOCO America, Inc., 1245 Rosemont Drive, Suite 140, Indian Land, SC 29707. (888) 658-2584; www.voco.dental/us.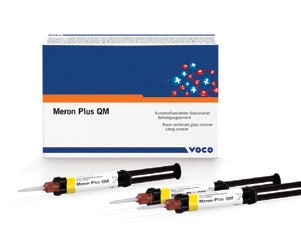 CBCT Unit
The Viso cone-beam computed tomography unit simplifies patient positioning and field-of-view adjustments, according to Planmeca, with a live control panel, integrated cameras, and live video view. The 25cm × 30cm flat-panel sensor will acquire the entire maxillofacial area in a single scan, and the CALM algorithm improves image quality by correcting for patient movement. An Ultra Low Dose option is also available.
For more information, contact Planmeca USA, Inc., 100 N. Gary Ave., Suite A, Roselle, IL 60172. (630) 529-2300; www.planmecausa.com.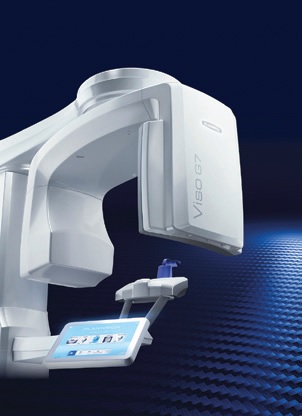 Safety Eyewear
Palmero's ProVision line of safety eyewear meets ANSI Z87.1 eye and face protection standards and blocks both UVA and UVB rays, according to the company. Available in multiple styles and sizes to meet a variety of clinical and patient needs, the glasses all feature lightweight frames, anti-fog coatings, and a comfortable yet secure fit.
For more information, contact Palmero Healthcare, 120 Goodwin Place, Stratford, CT 06615. (800) 344-6424; www.palmerohealth.com.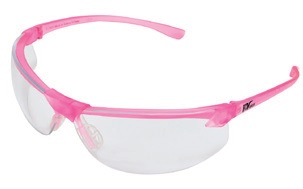 Interproximal Reduction
FitStrip IPR kits now include color-coded diamond abrasive strips in two larger sizes, .4mm and .5mm, along with new stainless steel gauges. According to the manufacturer, each strip can be easily adjusted from straight to curved with a twist of the handle. The improved handles also allow the operator to work from outside the mouth for an enhanced field of view and patient comfort.
For more information, contact Garrison Dental Solutions, LLC, 150 DeWitt Lane, Spring Lake, MI 49456. (888) 437-0032; www.garrisondental.com.